Mark Nowakowski is a composer whose works represent a thoughtful merger of bold expression and mystical contemplation, Slavic pathos and American individualism. His music has been commissioned and performed globally by such notables as the Kronos Quartet, the Cleveland Chamber Symphony, the Silesian Quartet, Three Notch'd Road, Composers Inc, His Majesty's Men, cellist Jeffrey Zeigler, Orkiestra Camerata Stargard, The Cleveland Chamber Choir, Band of Voices, Stowarzyszenia Mozart, the Canton Symphony, Vox Musica of Sacramento, the "Chaps" Choir of Poland, the Choir of the Shrine of the Basilica of the Immaculate Conception, the choirs of St. John Cantius in Chicago, the Cracow Brass Quintet, and many others. He currently serves as the composer in residence for His Majesty's Men, and the director and producer of the Vos Omnes Virtual Choir.
His debut album on Naxos, "Blood, Forgotten" was praised by Gramophone Magazine for its "intense emotional worlds" with "writing that is at once fierce, haunting, and mystical", while evoking "dramatic and psychological atmospheres as if Bartok and Shostakovich were looking over [Nowakowski's] shoulder, but with his own sense of urgency, rhythm, and color." Reviewer David Denton writes that "Mark Nowakowski has positioned himself among the cutting-edge composers" with this album release. His second portrait disc – Metanoia – quickly reached #1 on Amazon's new classical list.
Beyond the classical and sacred music worlds, Nowakowski has also selectively worked in documentary film scoring. His score for "Discovering Tolkien" was shown internationally on EWTN, while his score for "Mass of the Ages" has become part of a viral hit which has garnered millions of views worldwide.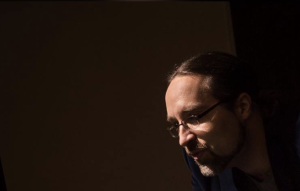 The son of Polish immigrants, Mark's music derives a great deal of its experiential and aesthetic influence from his bicultural experience. Philosophically and spiritually, he is deeply influenced by the long history of Catholic mysticism, and is always seeking the transcendent element in all of his work. Beyond his work as a composer and teacher, he works actively to promote the sacred arts in North America, including in his role as a member of the Board of Directors of the Catholic Art Institute and frequent collaborations with the Benedict XVI Institute.
In 2011, the Kronos Quartet premiered his "String Quartet #2: Grandfather Songs" at the International Festival of Polish Music in Krakow. In 2012, he was the composer in residence for Projekt Mozart, seeing his "O Pieknosci Niestworzona"' premiered in a concert tour of seven Polish cities culminating in Czestochowa and Warsaw. In 2008, he served as the Composer in Residence for the Canton Symphony Orchestra. His writings have been published in Sacred Music Journal, Sound on Sound, onepeterfive, and at newmusicbox.org. Most recently, he contributed a chapter to "Composing for the Screen" (Hallgren, Focal Press).
Mark received his Doctorate of Musical Arts from the University of Maryland, where he also won the biennial Walsum Award for Excellence in Music Composition. He holds a Professional Studies degree from the Cleveland Institute of Music, where he was Assistant Director of the CIM New Music Festival and was awarded the Donald Erb Prize in Composition. He holds his Masters from the University of Colorado and two undergraduate degrees from Illinois State University where he graduated with honors in both Music Theory and Arts Technology. His main composition teachers include Paul Schoenfield, Daniel Kellogg, Mark Wilson, Margaret Brouwer, Larry Moss, Steven Taylor, John Drumheller, and Michael Theodore. He has taught at the University of Maryland, Christendom College, Benedictine University, and DuPage College of Illinois and is currently Associate Professor of Music at Kent State University at Stark.