Bio: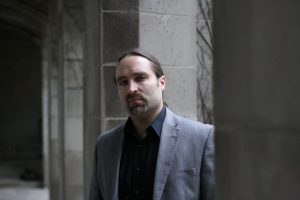 Mark Nowakowski is a composer whose works represent a modern merger of bold expressionism and mystical contemplation, Slavic pathos and American individualism. His work has been commissioned and performed globally by such notables as the Kronos Quartet, the Cleveland Chamber Symphony, The Silesian Quartet, cellist Jeffrey Zeigler, The Voxare Quartet, His Majesty's Men, Three Notch'd Road, Stowarzyszenia Mozart, Vox Musica of Sacramento, the Choir of the Shrine of the Basilica of the Immaculate Conception, and the Cracow Brass Quintet. His debut album on Naxos, "Blood, Forgotten" was praised by Gramophone Magazine for its "intense emotional worlds" with "writing that is at once fierce, haunting, and mystical", while evoking "dramatic and pscyhological atmospheres as if Bartok and Shostakovich were looking over <Nowakowski's> shoulder, but with his own sense of urgency, rhythm, and color." Reviewer David Denton writes that "Mark Nowakowski has positioned himself among the cutting-edge composers" with this album release.
The son of Polish immigrants, Mark's music derives a great deal of its experiential and aesthetic influence from his bicultural experience. Philosophically and spiritually, he is deeply influenced by the long history of Catholic mysticism and its profound meeting of east and west, and is always seeking the transcendent element in all of his work.
In 2019, The Silesian Quartet reprised his String Quartet #2: Grandfather Songs, at NOSPR in Katowice, Poland. The worked was originally premiered in 2011 by the Kronos Quartet premiered at the International Festival of Polish Music in Krakow. 2019 also saw the performance of "Reaching" by Jeffrey Zeigler at the Crested Butte Music Festival. In 2012, he was the composer in residence for Projekt Mozart, seeing his "O Pieknosci Niestworzona" premiered in a concert tour of seven Polish cities culminating in Czestochowa and Warsaw. In 2008, he served as the Composer in Residence for the Canton Symphony Orchestra. His writings have been featured at Sound on Sound, CDN, Sacred Music Journal, onepeterfive, and newmusicbox.org among others.
Mark received his Doctorate of Musical Arts from the University of Maryland, where he also won the biennial Walsum Award for Excellence in Music Composition. He holds a Professional Studies degree from the Cleveland Institute of Music, where he was Assistant Director of the CIM New Music Festival and was awarded the Donald Erb Prize in Composition. He holds his Masters from the University of Colorado, and two undergraduate degrees from Illinois State University where he graduated with honors in both Music Theory and Arts Technology. His main composition teachers include Paul Schoenfield, Daniel Kellogg, Mark Wilson, Margaret Brouwer, Lawrence Moss, Steven Andrew Taylor, John Drumheller, and Michael Theodore. He has taught at the University of Maryland, Christendom College, Benedictine University, and DuPage College of Illinois, and currently serves on the faculty of music at Kent State University, Stark.
---
Artist Statement:
"I often ask myself how, in a time of so much uncertainty and suffering, we can justify diverting valuable time, energy, and resources towards something so seemingly selfish as the high arts. As both a composer and person, I find a poignant and relevant answer comes from the German philosopher who was at one point named one of the chief intellectual enemies of the Third Reich, Dietrich von Hildebrand. He wrote that Beauty "opens our hearts, inviting us to transcendence and leading us in conspectu Dei – before the face of God." This thought encapsulates the aesthetic ideal that motivates me: to contribute to an art which is an antidote to the fundamental dehumanization and confusion of our times. While I hope to compose music that is equally satisfying intellectually and emotionally, Hildebrand's categorization of aesthetic experience points to something beyond such surface concerns – past the fashionable movements of much contemporary art – towards what John Tavener called "the renewal of that which always abides."
As a child of Polish immigrants, eastern European spirituality has come to resonate deeply with me, while the works of Polish composers from Chopin to Górecki are a part of my creative bedrock. I find little contradiction in my American roots, where the stark and sometimes brutal written word along with the individualism and transcendentalism of composers like Charles Ives have exercised an equal formative pressure on me…somewhere in the midst of this cultural clash and spiritual dialogue is where I find my own creative voice.
The modern master Arvo Pärt once said in an interview that people don't "know how strong the music influences us for good or for bad. You can kill people with sound. And if you can kill, maybe there is also sound that is the opposite of killing. And the distance between the two points is very big. And you are free–you can choose." I can only ascent to such a noble sentiment. There are soundings that can harm, maim, and kill, and there are soundings that can celebrate our humanity while transcending it; I will consider myself beyond fortunate if I am able to contribute to the latter kind of expression."